** 2015 BREEDINGS **
- Please read carefully all the information -
---

Exciting News!! Pregnacy confirmed by Ultrasound! Due April 17th.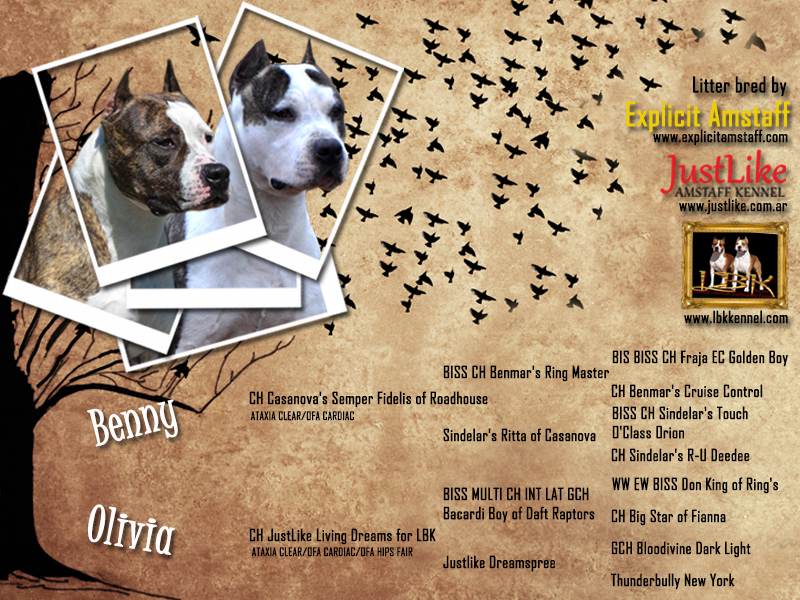 ---
Get in contact with us for info about spay/neutered pups & adults for ADOPTION.
---
For more Information please contact us by
Mail: info@justlike.com.ar --- Phone: +54 911 5639 9855
Find us on
as Andrea JustLike Amstaff
All of our puppies are raised in Family, Fully socialized on the street,
with kids and other animals. Strictly vaccinated and dewormed.

*Federación Cinológica Argentina (FCI/FCA) - American Kennel Club (AKC)*
Our puppies will be shipped to the new family only after 8 weeks old. Ear cropping can be arranged. It needed a $500 deposit to reserve a puppy, whethernborn or a future litter. If you had made a deposit on a puppy and it´s not available (for ex. you book a male and there´s not any male born in the litter) the deposit is transferred to a future litter.
The deposit is NOT refundable.
Puppies that are sold as PETS MAY NOT BE BRED, therefore will be considered UNSUITABLE FOR BREEDING. This puppies will only be sold under a spay/neuter contract. Contact us for more information about contracts and agreements to show & breed puppies born in JustLike Amstaff Kennel.